The Hindu newspaper is treated as the Bible by the various exam aspirants be it Bank Exam aspirants, SSC aspirants, or UPSC aspirants. Reading the editorial section of the newspaper daily has two-fold benefits: (a) It gives the editor's views on the latest happenings in India and the world, (b) It also helps enhance English vocabulary.
In this blog of "The Hindu Vocabulary December 2020", we have come up with a list of difficult words taken from the Hindu Editorials, their meanings, synonyms, antonyms, examples (the correct usage of the words). 
Read along to understand it better.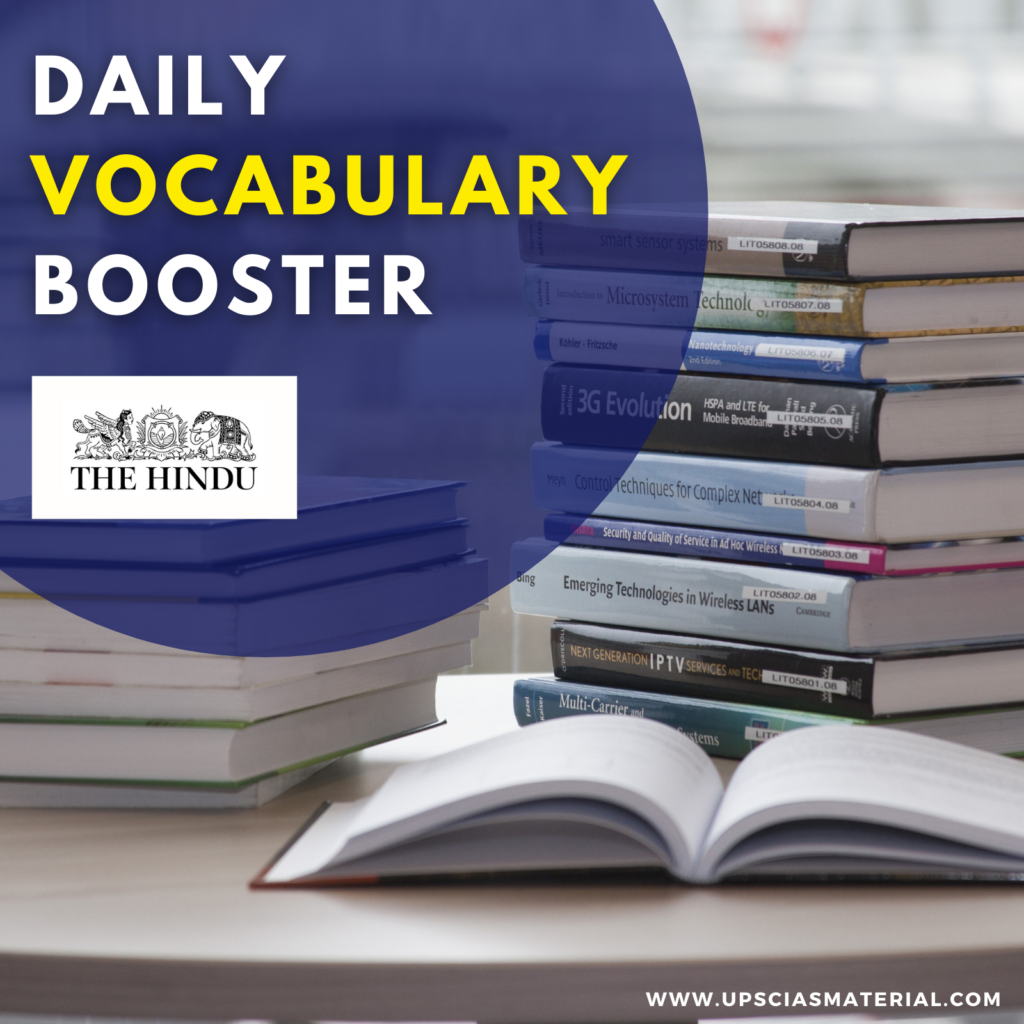 1. FISHY (ADJECTIVE): (संदेहजनक): dubious
Synonyms: doubtful, suspicious
Antonyms: truthful, aboveboard
Example Sentence:
I am convinced there is something fishy.
2. KNOTTY (ADJECTIVE): (जटिल): troublesome
Synonyms: mystifying, perplexing
Antonyms: easy, facile
Example Sentence:
It was his knotty idea.
3. KNAVE (NOUN): (दुष्ट): fraud
Synonyms: miscreant, rogue
Antonyms: hero, angel
Example Sentence:
He is known as a notorious knave of this area.
4. LUDICROUS (ADJECTIVE): (ऊटपटांग): absurd
Synonyms: bizarre, comical
Antonyms: normal, ordinary
Example Sentence:
It was a ludicrous statement made by her.
5. ACCOMMODATIVE (ADJECTIVE): (अनुग्राही): corrupt
Synonyms: adaptative, adaptive
Antonyms: maladaptive
Example Sentence:
She was understanding, accommodative, and always had a solution to all problems.
6. CONSENT (NOUN): (सहमति): assent
Synonyms: agreement, permission
Antonyms: dissent, disagreement
Example Sentence:
Change was made without the consent.
7. CULMINATION (NOUN): (परिणति): climax
Synonyms: peak, pinnacle
Antonyms: nadir
Example Sentence:
The deal marked the culmination of years of negotiation.
8. PEER (NOUN): (सहकर्मी): fellow
Synonyms: co-worker, compeer
Antonyms: commoner, junior
Example Sentence:
He has got criticism from his peers.
9. CODIFY (VERB): (संहिताबद्ध करना): organize
Synonyms: systematize, arrange
Antonyms: expunge, abrogate
Example Sentence:
The statutes have codified certain branches of common law.
10. KUDOS (NOUN): (प्रशंसा): praise
Synonyms: esteem, applause
Antonyms: dishonour, denunciation
Example Sentence:
They were given kudos for winning.
Please Disable Adblocker if You are using any
Join us on telegram for Updates – Click Here
If you want to share your study material with others
send me at
upsciasmaterials@gmail.com

All Materials available/provided here is for Education Purpose Only. Use It for building your knowledge and don't make them commercial. We request you to respect our Hard Work. We UPSC IAS Material are providing Everything Free Here. We will not charge anything for any service here.
We does not own this/any book, neither created nor scanned. We are only providing the link that already available on Internet. If Any Way it violates the law or has any issue then kindly contact us at upsciasmaterials@gmail.com. Thanks