The Hindu newspaper is treated as the Bible by the various exam aspirants be it Bank Exam aspirants, SSC aspirants, or UPSC aspirants. Reading the editorial section of the newspaper daily has two-fold benefits: (a) It gives the editor's views on the latest happenings in India and the world, (b) It also helps enhance English vocabulary.
In this blog of "The Hindu Vocabulary December 2020", we have come up with a list of difficult words taken from the Hindu Editorials, their meanings, synonyms, antonyms, examples (the correct usage of the words). 
Read along to understand it better.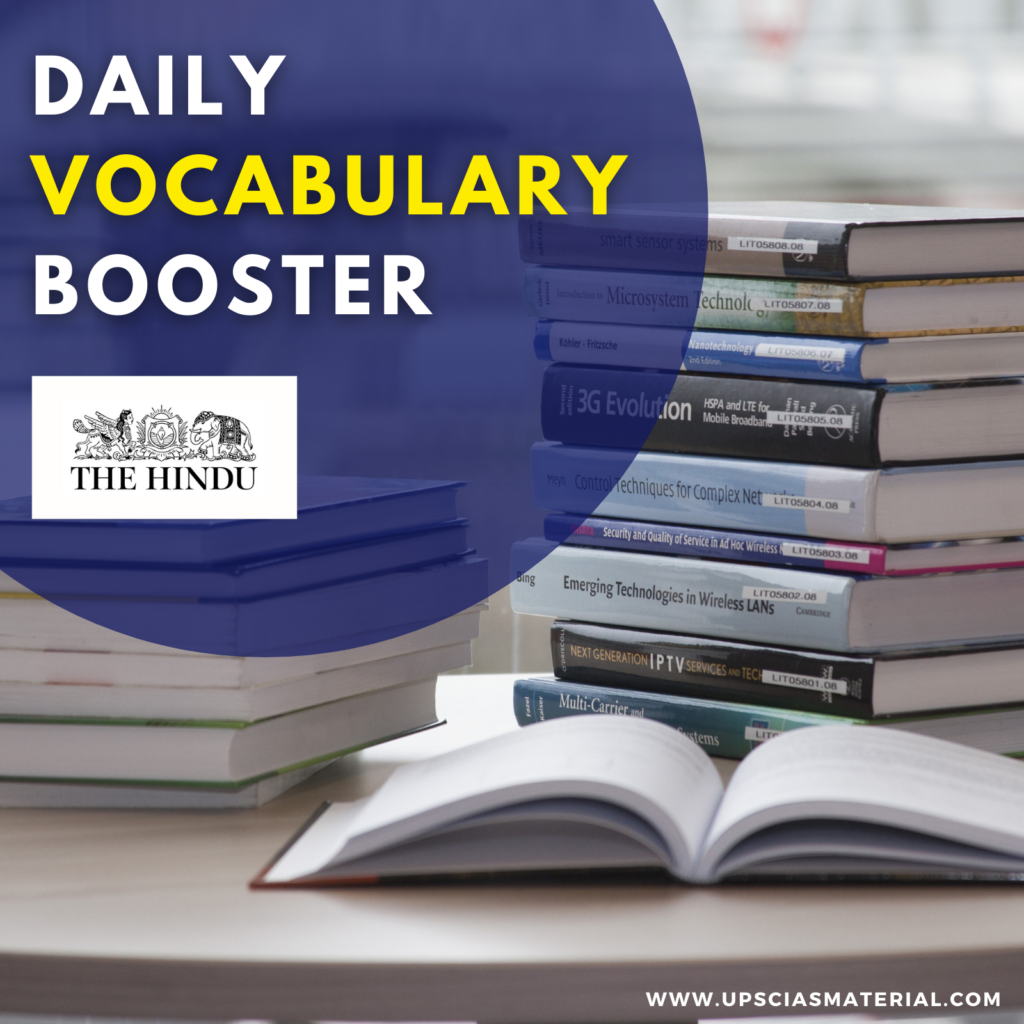 1. HUDDLE (VERB): (करीब आना): crowd
Synonyms: gather, throng
Antonyms: disperse
Example Sentence:
Both of them huddled under the blanket, watching the flames grow.
2. STARK (ADJECTIVE): (स्पष्टवादी): blunt
Synonyms: bald, bare
Antonyms: disguised
Example Sentence:
His position is in stark contrast to that of his brothe

3. DAUNT (VERB): (भयभीत करना): intimidate
Synonyms: abash, shake
Antonyms: encourage
Example Sentence:
Most of the elderly people are daunted by technology.
4. VIABLE (ADJECTIVE): (व्यवहार्य): workable
Synonyms: feasible, practicable
Antonyms: impracticable
Example Sentence:
The proposed investment was of economically viable nature.
5. DRACONIAN (ADJECTIVE): (कड़ा): harsh
Synonyms: severe, strict
Antonyms: mild
Example Sentence:
The Nazis destroyed the independence of the press by a series of draconian laws.
6. DELECTABLE (ADJECTIVE): (स्वादिष्ट): delicious
Synonyms: mouth-watering, appetizing
Antonyms: inedible
Example Sentence:
We love delectable handmade chocolates.
7. CAUSTIC (ADJECTIVE): (व्यंग्यपूर्ण): sarcastic
Synonyms: cutting, biting
Antonyms: kind
Example Sentence:
The players were making caustic comments about the refereeing.
8. CONTENTIOUS (ADJECTIVE): (विवादास्पद): controversial
Synonyms: disputable, debatable
Antonyms: uncontroversial
Example Sentence:
We are dealing with a contentious topic.
9. SPARE (ADJECTIVE): (अतिरिक्त): extra
Synonyms: disputable, debatabl
Synonyms: supplementary, additional
Antonyms: principal
Example Sentence:
Few people had spare cash for essentials.
10. IMPERATIVE (ADJECTIVE): (आज्ञसूचक): peremptory
Synonyms: commanding, imperious
Antonyms: submissive
Example Sentence:
The bell pealed again, a final imperative call.
Please Disable Adblocker if You are using any
Join us on telegram for Updates – Click Here
If you want to share your study material with others
send me at
upsciasmaterials@gmail.com

All Materials available/provided here is for Education Purpose Only. Use It for building your knowledge and don't make them commercial. We request you to respect our Hard Work. We UPSC IAS Material are providing Everything Free Here. We will not charge anything for any service here.
We does not own this/any book, neither created nor scanned. We are only providing the link that already available on Internet. If Any Way it violates the law or has any issue then kindly contact us at upsciasmaterials@gmail.com. Thanks