The Hindu newspaper is treated as the Bible by the various exam aspirants be it Bank Exam aspirants, SSC aspirants, or UPSC aspirants. Reading the editorial section of the newspaper daily has two-fold benefits: (a) It gives the editor's views on the latest happenings in India and the world, (b) It also helps enhance English vocabulary.
In this blog of "The Hindu Vocabulary December 2020", we have come up with a list of difficult words taken from the Hindu Editorials, their meanings, synonyms, antonyms, examples (the correct usage of the words). 
Read along to understand it better.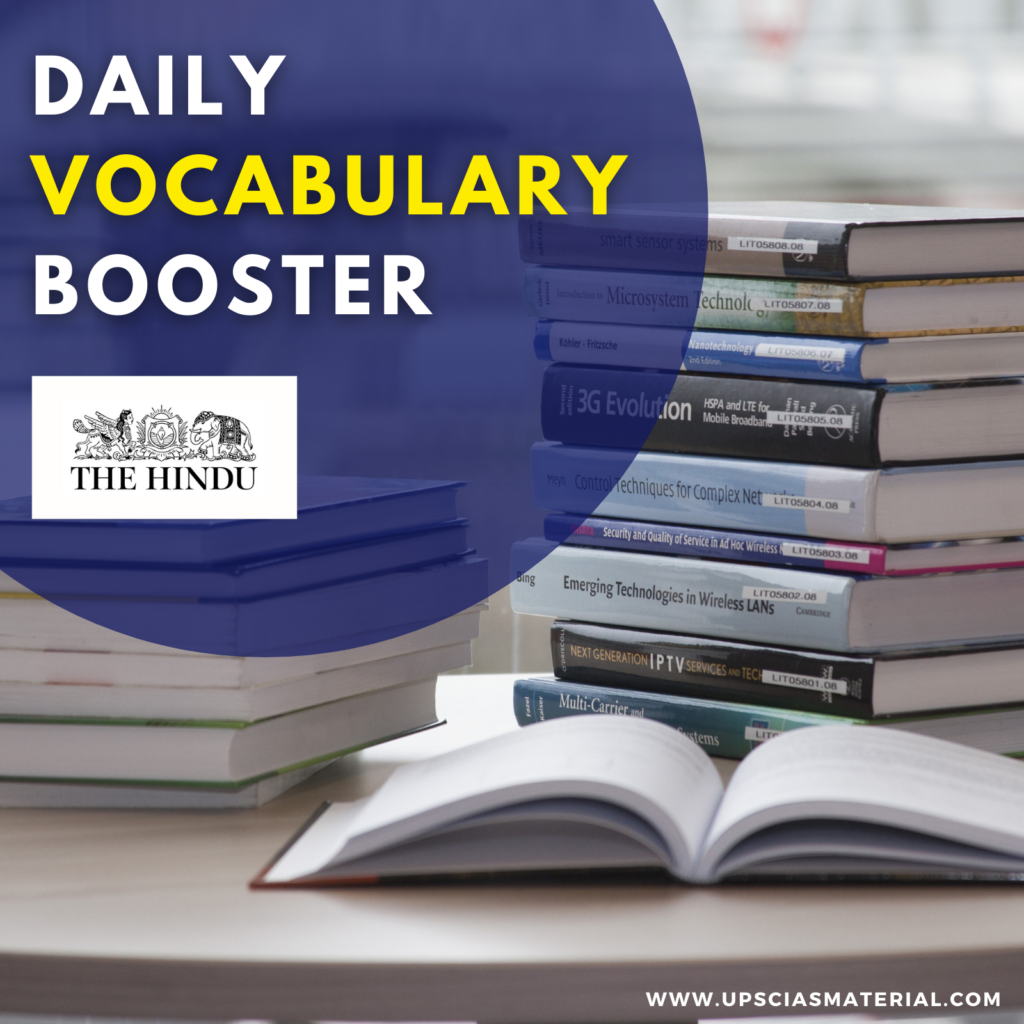 1. INEVITABLY (ADVERB): (अनिवार्य रूप से): unavoidably
Synonyms: automatically, necessarily
Antonyms: avoidably
Example Sentence: Inevitably some details are already out of date.
2. FRAUGHT (ADJECTIVE): (बेचैन): anxious
Synonyms: worried, upset
Antonyms: calm
Example Sentence: There was a fraught silence in the cabin.
3. INCENDIARY (ADJECTIVE): (उत्तेजक): inflammatory
Synonyms: provocative, agitational
Antonyms: conciliatory
Example Sentence: The principal's incendiary remarks were not appropriate for the students to hear.
4. STARTLE (VERB): (डराना): surprise
Synonyms: frighten, scare
Antonyms: put at ease
Example Sentence: A sudden sound in the doorway startled all of us.
5. SAGACIOUS (ADJECTIVE): (बुद्धिमान): wise
Synonyms: clever, intelligent
Antonyms: stupid
Example Sentence: Step by step, with sagacious attitude, he advanced to the great discovery.
6. DISRUPT (VERB): (भंग करना): distort
Synonyms: damage, buckle
Antonyms: organize
Example Sentence:It wasn't like Alex to let anger disrupt his schedule.
7. VENOMOUS (ADJECTIVE): (द्वेषपूर्ण): vicious
Synonyms: spiteful, rancorous
Antonyms: friendly
Example Sentence: She replied with a venomous glance.
8. LEGITIMATE (ADJECTIVE): (वैध): valid
Synonyms: sound, admissible
Antonyms: invalid
Example Sentence: His excuse for being late was legitimate.
9. INADVERTENTLY (ADVERB): (अनजाने में): accidentally
Synonyms: by accident, unintentionally
Antonyms: deliberately
Example Sentence: His name had been inadvertently omitted from the list.
10. SLASH (VERB): (कम करना): reduce
Synonyms: cut drop
Antonyms: raise
Example Sentence: The workforce has been slashed by 3,000.
Please Disable Adblocker if You are using any
Join us on telegram for Updates – Click Here
If you want to share your study material with others
send me at
upsciasmaterials@gmail.com

All Materials available/provided here is for Education Purpose Only. Use It for building your knowledge and don't make them commercial. We request you to respect our Hard Work. We UPSC IAS Material are providing Everything Free Here. We will not charge anything for any service here.
We does not own this/any book, neither created nor scanned. We are only providing the link that already available on Internet. If Any Way it violates the law or has any issue then kindly contact us at upsciasmaterials@gmail.com. Thanks