The Hindu newspaper is treated as the Bible by the various exam aspirants be it Bank Exam aspirants, SSC aspirants, or UPSC aspirants. Reading the editorial section of the newspaper daily has two-fold benefits: (a) It gives the editor's views on the latest happenings in India and the world, (b) It also helps enhance English vocabulary.
In this blog of "The Hindu Vocabulary December 2020", we have come up with a list of difficult words taken from the Hindu Editorials, their meanings, synonyms, antonyms, examples (the correct usage of the words). 
Read along to understand it better.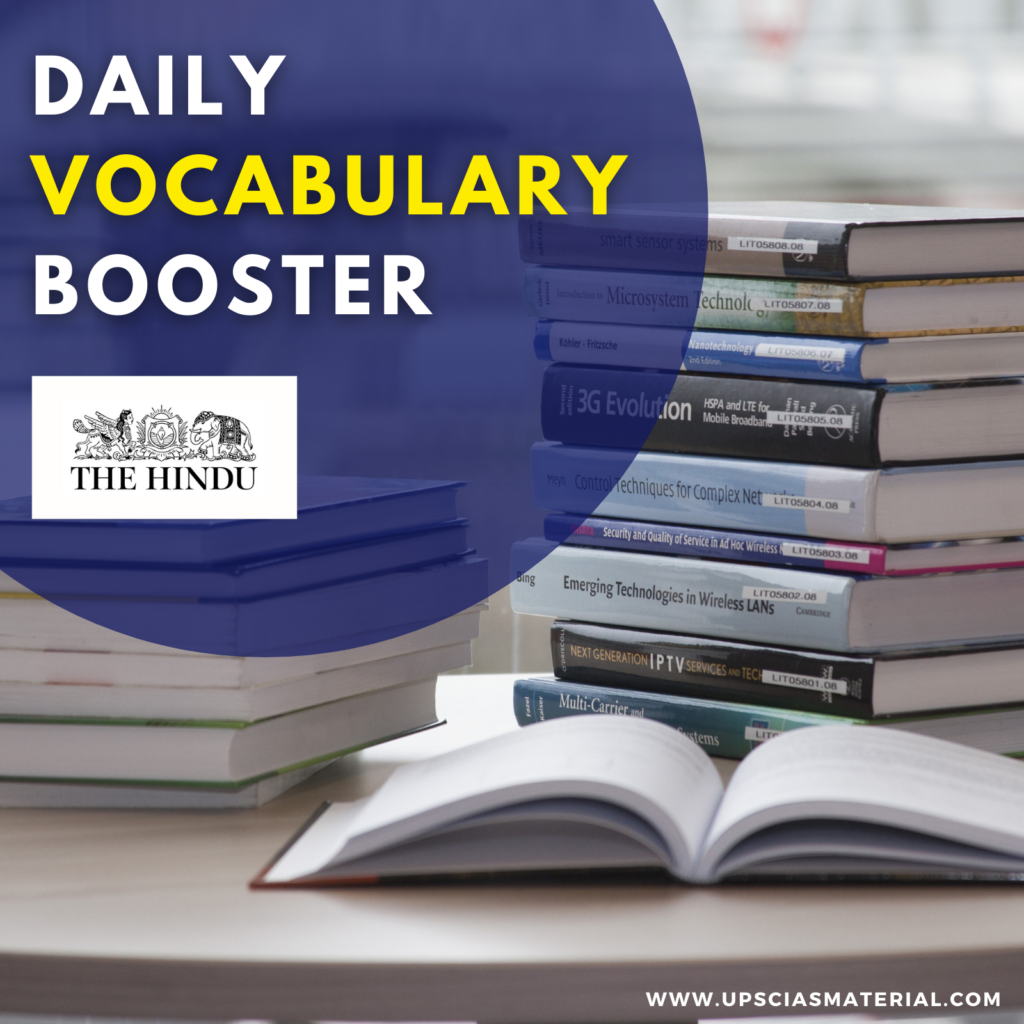 1. LURE (VERB): (प्रलोभित करना): tempt
Synonyms: entice, attract
Antonyms: deter
Example Sentence:
The child was lured into a car but managed to escape.
2. GRIEVOUS (ADJECTIVE): (संगीन): serious
Synonyms: severe, grave
Antonyms: slight
Example Sentence:
His death was a grievous blow to the entire family.
3. DETRIMENT (VERB): (हानि पहुँचाना): harm
Synonyms: damage, injury
Antonyms: benefit
Example Sentence:
All the tests were a detriment to good education.
4. VILIFICATION (NOUN): (तिरस्कार): condemnation
Synonyms: criticism, censure
Antonyms: praise
Example Sentence:
The politicians seldom face widespread vilification.
5. DISSIPATE (VERB): (अपव्यय करना): squander
Synonyms: misspend, waste
Antonyms: save
Example Sentence:
He inherited, but then dissipated, his father's fortune.
6. BETRAY (VERB): (प्रकट करना): reveal
Synonyms: disclose, divulge
Antonyms: conceal
Example Sentence:
Many of those employed by diplomats betrayed secrets.
7 DISMAL (ADJECTIVE): (निराशाजनक): gloomy
Synonyms: glum, mournful
Antonyms: gloomy
Example Sentence:
His dismal mood was not dispelled by finding the house empty.
8. SLUMP (NOUN): (मंदी): plunge
Synonyms: drop, collapse
Antonyms: rise
Example Sentence:
The company saw a slump in profits.
9. EXPEDITE (VERB): (जल्दी करना): speed up
Synonyms: accelerate, hurry
Antonyms: delay
Example Sentence:
She promised to expedite economic reforms.
10. DOOM (VERB): (नियत होना): destine
Synonyms: fate, predestine
Antonyms: happy
Example Sentence:
All of her plans were doomed to failure
Please Disable Adblocker if You are using any
Join us on telegram for Updates – Click Here
If you want to share your study material with others
send me at
upsciasmaterials@gmail.com

All Materials available/provided here is for Education Purpose Only. Use It for building your knowledge and don't make them commercial. We request you to respect our Hard Work. We UPSC IAS Material are providing Everything Free Here. We will not charge anything for any service here.
We does not own this/any book, neither created nor scanned. We are only providing the link that already available on Internet. If Any Way it violates the law or has any issue then kindly contact us at upsciasmaterials@gmail.com. Thanks